Health data standardisation: an integral part of end-to-end data analysis
14 September 2023
Introduction to health data standardisation
Given the rate of expansion of health research data, there is now enormous potential for scientific discovery. However, using this critical but sensitive data poses challenges for researchers and clinicians.
Health data arises from a wide range of sources - subsequently, it doesn't always have the same ordered terminology or format. For example, across different datasets, dates can take alternative formats ranging from YYYY-MM-DD, DD-MM-YYYY and MM-DD-YYYY.
For researchers, these data variations cause difficulties, as it takes significant time and effort to prepare the data for analysis. Ultimately, this enormous amount of health data then must be stored, accessed, combined, and used in safe, scalable, and effective ways to unlock its full potential.
This article discusses how health data standardisation is a critical first step to accelerating data research and analytics for precision medicine. This article also considers the important factors for using tools to enable safe and secure access to standardised health data and analysis to power research.
Health data transformation is key in a precision medicine approach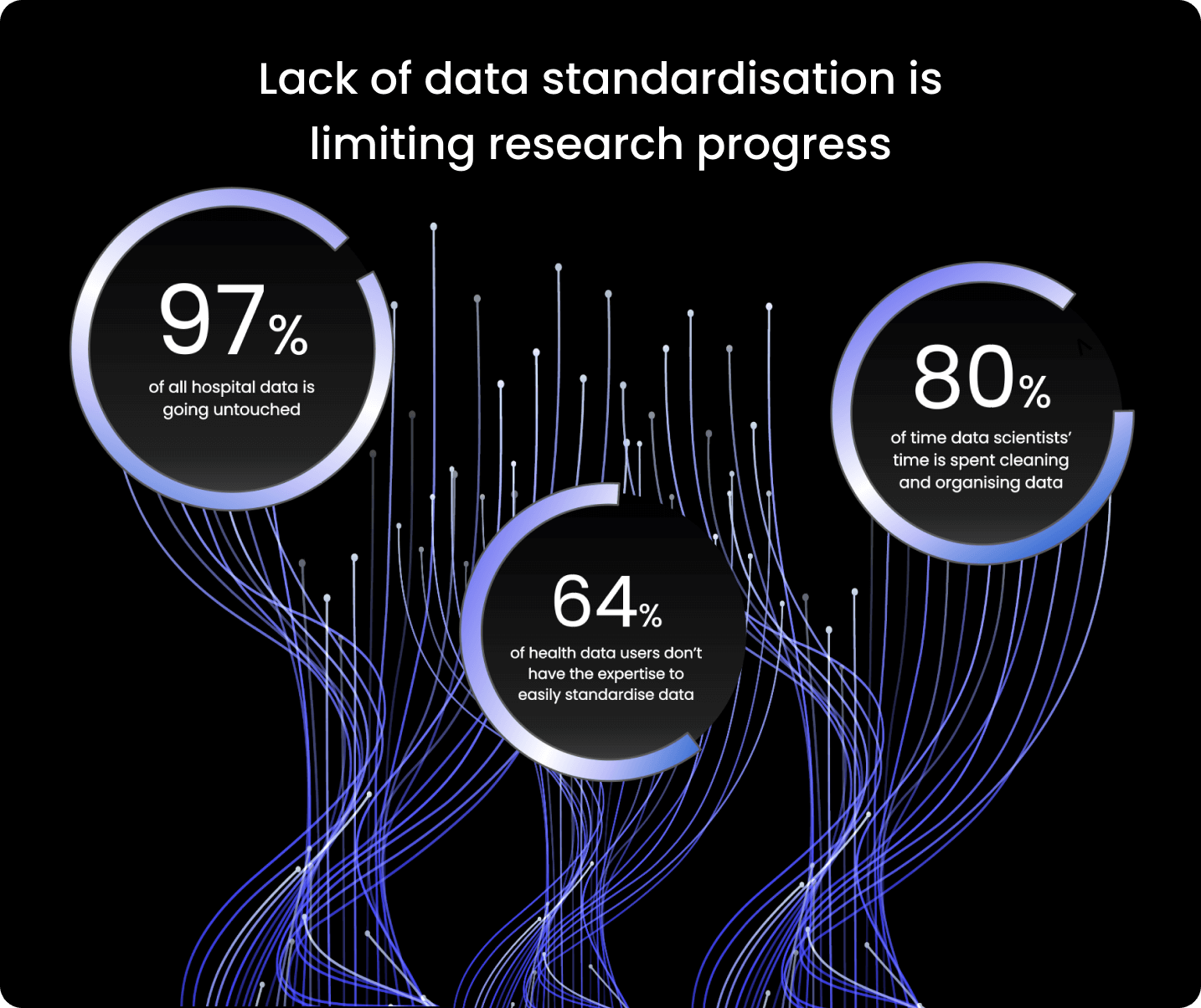 Data must be converted into compatible formats to effectively combine and analyse it to solve the most pressing questions in healthcare research.
This involves utilising common data models (CDMs) - or standardised data models - to allow for information exchange between different applications and sources.
There are several common data models available including:
Fast Healthcare Interoperability Resources (FHIR) from HL7,
Observational Medical Outcomes Partnership (OMOP) CDM from the OHDSI,
Study Data Tabulation Model (SDTM) from CDISC.
The benefits of standardised health data are clear. By harmonising health data, researchers can:
Enable data linkage

Simplify data management
Ensure data adheres to the FAIR principles
Enhance consistency and reproducibility
Increase collaboration
Gain novel insights faster
Ultimately improve patient outcomes
There are many technical requirements to consider when performing health data transformation. However, once data is standardised, users can then perform analysis to derive meaningful insights for their research.
However, access to and analysis of the data must also be harmonised to maximise insights that can be gained. Additionally, health data is often highly sensitive, so this process must be highly secure.
To help with research and innovation using health data, a comprehensive way to access, connect, and analyse data while keeping it safe is required. End-to-end platforms are a solution that empower researchers with usable, harmonised health data and tools, while keeping data within a secure environment.
End-to-end data analysis platforms can provide a cohesive way to transform, access and draw insights from standardised health data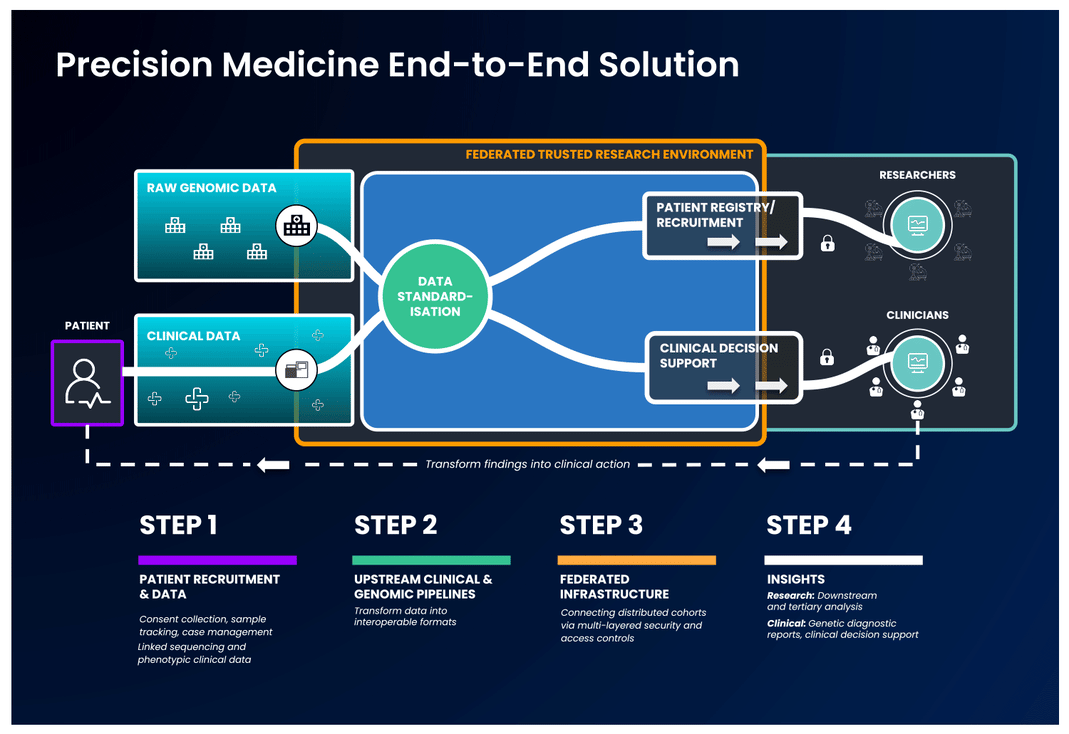 The first part of an end-to-end precision medicine solution requires gathering and standardisation of health data into interoperable forms.
Once data is transformed and interoperable, it can be accessed by authorised researchers. Trusted Research Environments (TREs) are increasingly used to provide researchers with safe access to sensitive, standardised health data. TREs are highly secure and controlled computing environments that allow researchers to gain access to data safely. Also known as "Data Safe Havens" or "Secure Data Environments", these secure digital environments enable approved researchers to remotely access, store, and analyse sensitive health data in a single location.
TREs can address concerns around data security and patient privacy - with multi-layered security controls, robust monitoring and auditing capabilities. Strict security controls are required to ensure results are exportable by approved users only- which is crucial given the sensitive and personal nature of health data.
Data security is of utmost importance. Read more about Lifebit's approach in our white paper on security
The standardised and secure data can then be ingested into a cloud-based federated architecture, enabling authorised users to access and link it with other data to create distinctive analytic cohorts important to their research.
Federated data analysis promotes secure, international collaboration, bridging access across countries and jurisdictional regulations. Data federation is increasingly important in securely providing access to sensitive data in healthcare. With a federated architecture, researchers will have safe access to the analytic tools they need to derive insights that ultimately benefit patients.
In this video, Professor Serena Nik-Zainal, Professor of Genomic Medicine and Bioinformatics at The University of Cambridge, explains why researchers need to securely access health data and how organisations are solving this problem using federated data analysis.
Research institutions, healthcare systems, and genomic medicine programs worldwide can leverage the progress in data standardisation, cloud computing, federated analysis, and comprehensive data management platforms to collaborate and conduct joint analyses.
This can be accomplished by linking a broader range of datasets to democratise data access and knowledge, while still maintaining control over data. These efforts will facilitate the sharing of benefits and foster fair access to clinical insights and data, as well as encourage international scientific collaboration.
End-to-end systems can help researchers go a step further by giving them access to the analytical tools they need to obtain vital new knowledge from sensitive, standardised health data safely and securely.
Summary
There are many different sources and formats of health information. Only when the data is made interoperable can it be effectively combined to produce new insights through research and analysis.
It is essential to standardise health datasets to ensure data quality and accelerate collaboration for maximum insights and discoveries.
Organisations can simplify, standardise and support the researcher experience to accelerate scientific discoveries by employing an end-to-end approach of standardised data, safe access and analytic tools.
Author: Hannah Gaimster, PhD
Contributors: Hadley E. Sheppard, PhD and Amanda White
---
About Lifebit
Lifebit provides health data standardisation services for clients, including Genomics England, Boehringer Ingelheim, Flatiron Health and more, to help researchers transform data into discoveries.


Lifebit's services are making health data usable quickly.


Interested in learning more about Lifebit's health data standardisation services and how we accelerate research insights for academia, healthcare and pharmaceutical companies worldwide?
Find out more about the value of data standardisation at our upcoming webinar, Data Harmony, on 14 September 2023. Secure your place today.