Genomics England Launches Next-Gen Research Platform for COVID-19 Response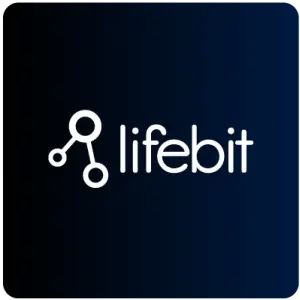 British tech company Lifebit and Amazon Web Services to support a dedicated environment for researchers working on COVID-19 vaccines and treatments
London, UK – 29 June 2020: Genomics England (GEL) has today launched a next-generation genomic research platform that will play a key role in the research response to COVID-19. This ground-breaking research environment will transform how genomic data is made usable for global biopharma and academic researchers. It will provide world-class patient data security, while enabling the flexibility required for research at the bleeding edge of science.
GEL has partnered with innovative British deep-tech company Lifebit and is using global cloud provider Amazon Web Services (AWS) to power the platform. The immediate focus for the research environment will be on COVID-19 data and analytics. The platform will ultimately also harness the GEL 100,000 Genomes Project data in the fight against cancer and rare diseases.
The launch of this new research environment reflects a new chapter in the role that genomic research can play in collaborative drug discovery and treatment development for the benefit of the health industry. By using AWS's scalable and secure cloud computing and storage infrastructure in the UK, and then enabling access, analysis and collaboration through Lifebit's unique technology platform, GEL will unleash the breakthrough potential of researchers around the world. The data stored on the platform will never leave GEL's highly secure environment but will allow flexible research access to it. Much like the use of apps on a smartphone, researchers will be able to introduce cutting edge analytical tools of their choice, link those tools securely with their in-house data, and conduct research in private workspaces that are audited, protected and controlled by GEL's strict information governance policies.
In addition, GEL, in partnership with the GenOMICC consortium, is working with the NHS to deliver whole genome sequencing of up to 20,000 COVID-19 intensive care patients, and up to 15,000 people with mild symptoms. This data will be stored in the AWS UK Region under the control of GEL.
Lifebit's leading platform will allow researchers to query, analyse and collaborate over these very large sets of genomic and medical data in seconds. Its enhanced functionality and automated tools will speed up researchers' understanding of the underlying genetic factors that may explain what makes some patients more susceptible to the virus, or more severely ill when infected. Researchers' findings will help fast-track the development of vaccines and treatments as well as identify those most at risk.
The launch of the new research environment fortifies the UK's leadership position in genomics, with the aim of enabling global research collaboration, along with mainstreaming genomic medicine in UK healthcare in partnership with the NHS.
Chris Wigley, CEO at Genomics England, said:
"This is all about impact for patients in the UK and beyond, who will benefit from GEL's support for the response to this terrible pandemic. By improving understanding of why some patients have such severe responses to the virus while others have a mild response, GEL is helping to support vaccine and drug development. This will ultimately ensure that the treatment of the UK's COVID patients is personalised, safer and more effective.
"I am incredibly excited that Lifebit and AWS have joined us to launch the next phase of our research capabilities. Speed is of the essence and it has been heartening to see the dedication to getting this new infrastructure stood up as rapidly as possible. Beyond the immediate focus on COVID-19, the advanced capabilities of the Lifebit and AWS environment will over time allow us to introduce contemporary bioinformatic workflows for researchers in rare disease and cancer research, unlocking the potential for the UK population genomic data to contribute to target discovery, functional genomics and advanced clinical trial design".
John Davies, Head of UKI Healthcare, AWS Public Sector, AWS, said:
"We are delighted that Genomics England has selected AWS and our APN partner Lifebit to rapidly deploy their Covid-19 research environment. Using AWS, Genomics England will be able to provide researchers with access to secure, scalable cloud computing resources that will enable them to perform studies to better understand the virus and deliver better outcomes and treatments for NHS patients."
Dr Maria Chatzou Dunford, Lifebit CEO, said:
"Genomics England's groundbreaking Research Environment changes how population genomics is done forever. GEL is widely recognised as the pioneer of population genomics and now they have architected the world's most cutting-edge Research Environment. As a British company we are honoured to play a central role in this historic initiative and in the UK's world-leading COVID-19 Research Response.
"For the first time, we have managed to combine Fort Knox-grade security for participant data with maximum research flexibility. GEL sets a precedent on how, by using federated technology, research platforms should bring computation to the data, rather than the other way around. Now disparate cohorts of large and sensitive data can be analysed by researchers without copying or moving the data, and true collaboration can happen. Together with our existing federated deployments with big pharma and research institutions, this rings in an end to the era of risky and unnecessary data transfers."
ABOUT GENOMICS ENGLAND
Genomics England Ltd (GEL) exists to bring everyone the benefits of genomic medicine. As a government company, our vision is to help transform and personalise healthcare by translating novel genomic research insights into better outcomes for patients in the NHS and around the world. We work in partnership with patients and participants, the NHS, academia, the pharma industry, the UK government and the technology industry.
Contact: aislingjamieson-ewers@luther.co.uk / genomics@luther.co.uk
ABOUT LIFEBIT
Lifebit is a London, UK company democratising our understanding of genomics and medical big data to leap forward cures and enhance life. Its federated cloud operating system, Lifebit CloudOS, delivers powerful analysis, computation and data management where big data resides, putting an end to unnecessary and risky data movements. Truly end-to-end, it takes raw data all the way through insights, accelerating genomics research and speeding time to enriched insights in personalised medicine and drug-discovery. Researchers can quickly combine, browse and analyse data, seamlessly collaborate, and drastically reduce time and costs, all while harnessing the power of federation and AI.
Lifebit press contact: pr@lifebit.ai