The ultimate application of precision medicine? The role of secure data federation in newborn genomic screening for rare diseases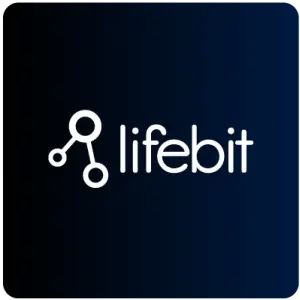 LONDON, UK - 1pm, 11 October 2023
New scientific review demonstrates the vital role of federated data access in supporting newborn genomic sequencing programmes.

When compared to standard newborn screening, which normally identifies between 10 and 30 illnesses, genomic screening dramatically increases the number of diseases that may be tested for (up to 400), and can enable earlier detection which in turn leads to better outcomes for patients with rare disease.

The review emphasises the critical importance of standardised data, trusted research environments (TREs), and federated data analysis in allowing authorised researchers to diagnose and develop treatments for hundreds of diseases in infants.
Published this week in the Rare Disease and Orphan Drugs Journal, a new scientific review by global biotechnology company Lifebit and its partners First Steps and the National and Kapodistrian University of Athens highlights the vital contribution of standardised data and federated data analysis in newborn genomic screening programmes.
Worldwide, approximately 6% of babies are born each year with a genetic disease. Many of these diseases could be detected through sequencing the baby's genome, through a simple blood test, when the baby is first born. For around 400 rare diseases, interventions can be given in the first months of life, which can significantly improve the child's outcomes or cure the disease completely.
Lifebit is partnering with newborn programmes across the world, including an innovative new initiative in Greece, to enable the data from newborn genomic samples to be safely managed and linked for analysis through an approach called federation. Federation allows the secure access and linkage of highly sensitive data for research and is transforming approaches to drug discovery and precision medicine.
In their latest scientific review, Lifebit highlights the evolving state of newborn genomic screening worldwide. As more countries continue to adopt genomic approaches to newborn screening, accessing and utilising this data present unique challenges related to secure data access, privacy and analysis.
Many countries including the UK, USA and Australia are beginning to take the first steps towards utilising large-scale genomics data to diagnose an increasing number of disorders, including rare and genetic conditions. These programmes are generating a significant amount of varied, sensitive data in silos across the world. Accessing and utilising this data for research into rare diseases presents challenges related to secure data access, privacy and analysis. These challenges must be addressed to ensure the potential advantages of newborn genomic screening can be fully realised.
Federated data analysis helps overcome these challenges by providing secure data access and enabling global collaboration. With federated technologies, researchers can be virtually linked to the data so that it never has to be physically moved or copied for access and analysis, enabling data custodians to adhere to data governance and regulatory requirements effortlessly.
The review highlights the crucial role of standardised data, trusted research environments (TREs) and federated data analysis, in enabling safe data access for approved researchers to diagnose an increasing number of disorders in newborns.
Lifebit CEO and co author of the scientific review Dr. Maria Dunford said:
"Data saves lives and the right time to collect data is when a baby is first born. Data federation has a vital role in enabling global cohorts of genomic newborn sequencing data to be securely analysed. Combined with early intervention and therapeutic advancements to truly save newborn babies lives is perhaps the ultimate application of precision medicine."
---
About Lifebit
Lifebit is a global leader in genomics and health data software, empowering organisations across the globe to transform how they securely leverage sensitive biomedical data. We are committed to solving the most challenging problems in precision medicine, genomics and healthcare with a mission to create a world where access to biomedical data will never again be an obstacle to curing diseases. www.lifebit.ai @lifebitAI
About First Steps
First Steps, Newborn Genome Screening, is a pioneering initiative in Greece focused on early detection for improved outcomes in genetic diseases. By targeting asymptomatic newborns, First Steps ensures swift and accurate intervention, minimizing disease complications. This initiative complements existing pre-symptomatic newborn screening programs, offering genetic counseling to families and facilitating access to healthcare providers with up-to-date therapeutic protocols and disease management guidance when genetic diagnoses are made in asymptomatic infants.
http://linkedin.com/company/bnsig @firststeps_ngs
Response to journalists
Media enquiries to be directed to Director of Communications and PR, Lifebit, by email amanda@lifebit.ai.