New CloudOS Platform Release: Lifebit Integrates Biobank Data Browser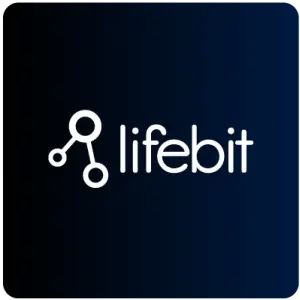 Lifebit biobank browser is engineered for the extreme scale and complexities of UK Biobank and other clinico-genomics big data
LONDON, UK – April 27, 2020 – Lifebit Biotech, a leading innovator in bioinformatics and cognitive software solutions, today announced a major new release of Lifebit CloudOS, the end-to-end cloud operating system that accelerates genomics research and delivers enriched insights in personalised medicine. Building upon its federated technology, Lifebit CloudOS 2.0 integrates the Biobank Data Browser, allowing users to store and query massive sets of genomic, phenotypic, multi-omic, medical record and other structured data generated by biobanks, such as UK Biobank.
Life sciences organisations are increasingly turning to the extensive knowledge bases generated by biobanks, which are amassing mountains of genomic and clinical data derived from hundreds of thousands of volunteer participants. However, these data troves – UK Biobank's dataset, for example, is expected to reach 15 petabytes in the next few years – are often unwieldy and cumbersome for users to effectively find the right data and run their analyses.
Dr Maria Chatzou Dunford, Lifebit CEO, said, "There is tremendous potential and knowledge waiting to be extracted from biobank data collections, such as UK Biobank. A major bottleneck, however, lies with researchers having to blindly navigate millions of clinical and genomic data points housed within these datasets. Lifebit CloudOS 2.0's powerful Biobank Data Browser helps researchers overcome these challenges by allowing them to effortlessly browse and explore thousands of phenotypic fields and millions of genomic variants; now, they can build and compare cohorts and deploy complex analyses easily, all through an intuitive interface."
Facilitating data exploration, analysis, and discovery, Lifebit CloudOS 2.0 empowers R&D teams to leap forward research and cures. The Biobank Data Browser enables researchers to effortlessly explore and analyse the full complement of genomics and phenotypic data available in biobanks. In addition, the powerful JupyterLab integration eases barriers to complex data analyses for researchers of all levels. Since it is built to scale to 10+ million individuals and 3+ billion variants, Lifebit CloudOS 2.0 seamlessly handles increasing biobank data collections and data points.
Lifebit CloudOS Biobank Data Browser Key Features
Easily create and analyse custom cohorts of individuals or samples based on shared genetic, clinical and phenotypic characteristics

Dynamically browse phenotypes and share cohorts

Utilise preloaded tools: custom cohorts can be used as inputs for analyses (e.g. performing GWAS analyses, polygenic risk scores (PRS) or any other private or public analysis repository)

Researchers can connect their data to Lifebit CloudOS and leverage Lifebit CloudOS apps to ingest the data into queryable databases

Ad hoc statistical analyses can be performed on R, Python and Julia via JupyterLab integration to directly query data & create dataframes
More information at http://lifebit.ai/biobank
To request a free consultation session, users may register below: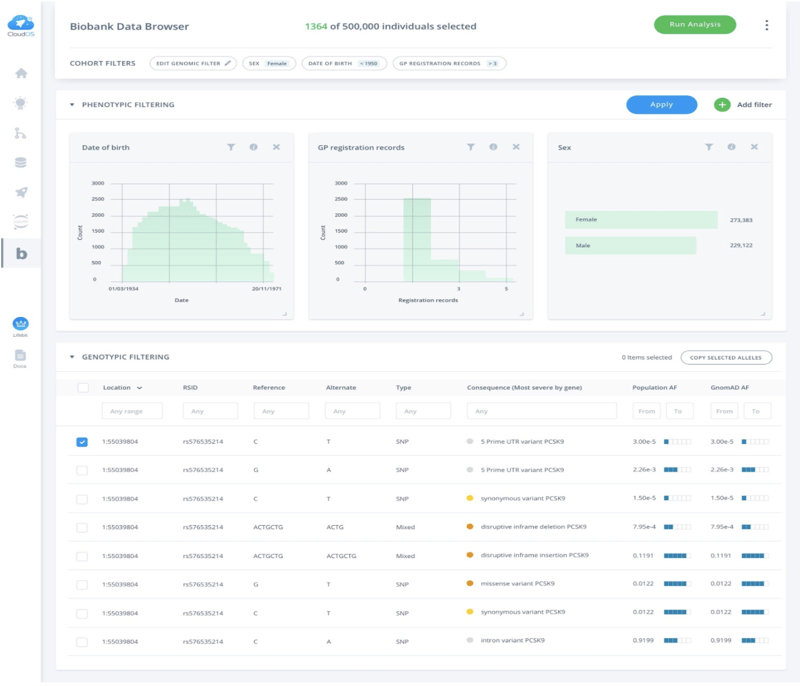 ABOUT LIFEBIT
Lifebit CloudOS is democratising the analysis and understanding of genomics big data to leap forward cures and enhance life. The end-to-end cloud operating system brings computation and analysis to data, wherever it resides, accelerating genomics research and delivering enriched insights in personalised medicine. Users are able to scale quickly while drastically reducing costs and speeding time to insights while harnessing the awesome power of AI – positively transformative for the scientists and researchers who share in the mission to radically change how healthcare is done. Headquartered in London, UK, Lifebit's ecosystem of employees, partners, and customers spans 15 countries.
Lifebit press contact: pr@lifebit.ai